Located only five minutes from downtown Ottawa and Gatineau (Hull), we offer the rental of a photography studio measuring 15′ x 20′ and a darkroom that allows printing up to 16″ x 20″.
The studio
The studio is ideal for any photographer wishing to work in an environment perfect for photography, in one of the best equipped studios in the region. The studio is average in size, measuring 15′ by 20′, not including the office area which is ideal for hair and make-up.
The following items are included in any studio rental:
9′ wide door that opens from the ground to allow easy access for decoration and accessories for multiple shooting options;
4 Bowens Travelite Flashes 375 mounted on ceiling rails;
Many accessories such as: umbrellas, softbox, honeycomb, snoot, reflectors, barn doors and electronic light meter;
2 paper backdrops (rolls), black and white, 107″ wide;
1 colour paper backdrop (roll), colour at the selection of the Studio (choice of colour is an extra);
3 Muslin backdrops are also available;
Two tripod tungsten 1,000 watts lamps;
Some basic items such as tables, chairs, ladder, stool, fan, heater, etc.;
Wireless Internet access, a phone line (outgoing calls only) and a PC computer.
During your rental you will have unlimited in-and-out privileges, and you will be the only one having access to the studio for privacy. The studio is also equipped with a private washroom.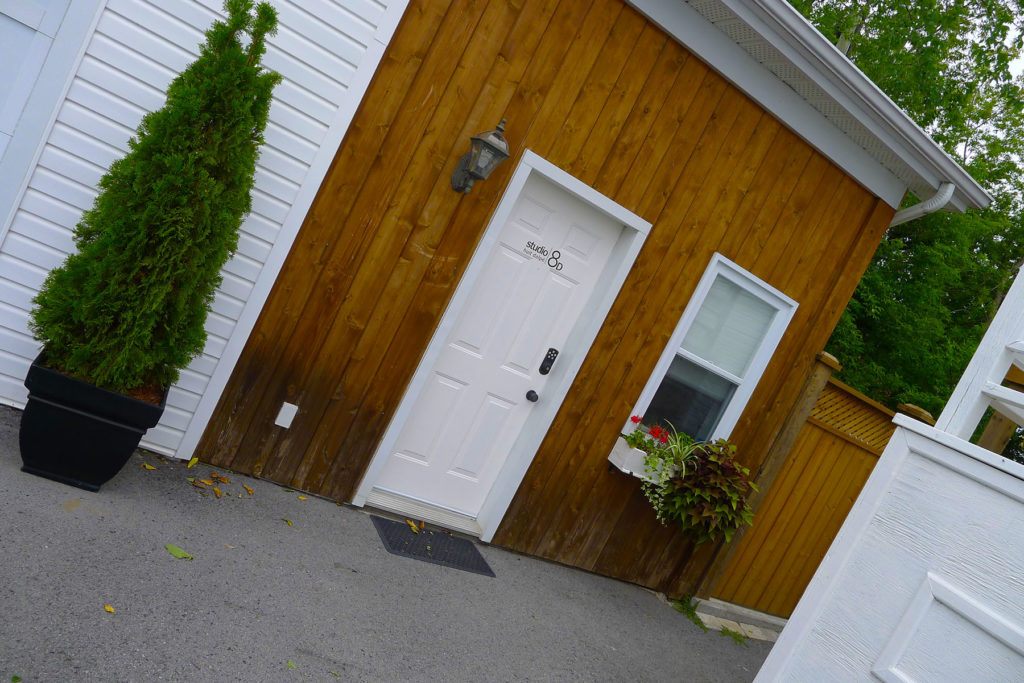 Prices
$125 weekday, daytime time slot (from 8 AM to 4 PM)
$105 weekday, evening time slot (from 5 PM to 9 PM)
$150 entire day, weekday or weekend (from 8 AM to 10 PM)
$270 weekend (Saturday and Sunday, from 8 AM to 10 PM)
$550 work week (Monday to Friday, from 8 AM to 10 PM)
Please note that studio rentals are not offered by the hour, and are only available for the above time slots.
Extras
Some interesting extras can be added:
A choice of colour backdrops ($30/each when in stock)
Fog Machine ($30)
Extra Flashes ($30/each)
Wireless flash trigger – PocketWizard ($30)
These prices include the item for the duration of the studio rental (consecutive days only). These items are only to be used at Studio Huit Dalpé. Other restrictions may apply.
Questions?
Please schedule a visit and tour our facilities so we can answer your questions.
Need help?
First time in a studio? You might benefit from our Introduction to In-Studio Photography Training.
Precalibrated lighting that fits your needs is offered for $40 each setup.
Alex Leblanc has many years of experience in photography, silver and non-silver printing as well as large format cameras. His hourly rate is $50.
To make a reservation
To make a reservation, you can contact us or submit a reservation request online so that we can fix an appointment together. During that appointment, you will need to bring 2 pieces of photo ID in order to sign the rental agreement. You will also need to bring the full rental amount which will be used as the deposit. An alarm code and a door code will be given to you so that you will have direct access to the studio on your rental day(s).
If you need to cancel
You have up to 48 hours before your rental period to cancel or make changes to your reservation, which will incur a 25% penalty. There will not be any reimbursement if you cancel or make changes less than 48 hours before the beginning of your rental period.
Filming video
The studio was conceived with photography in mind. That being said, it is possible to rent the studio for filming, however the lighting provided is for photography and the acoustics are not optimized.